Range Report: SIG-Sauer DAK P-220 SAS .45 ACP
At one time when the words "forty-five automatic" were heard, the Colt Government Model immediately came to mind. Times have changed and more than a few different pistols are chambered in this American favorite, though the great 1911-pattern pistol continues to reign at or near the top of popularity polls. I have long been an ardent fan of the single-action autoloader and have made no secret of my love for both the 9mm Hi Power and .45 1911-style handgun.
To legions of shooters, including me, these two premiere single-actions remain near perfect.
But if that's the case, why have all of these other forty-five pistols come along? Could it be that "perfection" is dependent upon the eye (and hand) of the beholder? Might external forces such as law enforcement agency rules, public pressure and personal preference exhibit a role in this determination? I think that the answer to these questions is yes.
At one time, if a shooter wanted a forty-five in something other than a single-action design, he was pretty well forced to go with a conventional DA/SA pistol. This is no longer true and a fellow can pick between conventional DA/SA, Glock "Safe Action", as well as a sort of disguised SA in Springfield Armory's XD line of pistols. He (or she) can also choose a DAO (Double-Action-Only) pistol but though better than in the past, these usually have rather stiff trigger pulls.
One of the newer designs comes from SIG-Sauer. It is a DAO design but is called DAK for "Double-Action Kellerman" in honor of the fellow who came up with the system. Without going into great detail, the DAK action is significantly lighter and smoother than the standard DAO pistols. Rather than a "partially cocked" design, the main difference is in an extended "leg" on the hammer that allows considerably greater leverage against the mainspring when the trigger pull cocks and releases the hammer. It is much smoother and lighter than I expected. In their literature, SIG-Sauer lists it at 7.5-lbs…and I believe it.
The pistol used for this report is one that I purchased NIB and is the SAS version of the P-220. SAS stands for "SIG Anti-Snag". Essentially, the sharp edges of the pistol have been "melted" from the factory. The trigger face is smooth and the gun has a stainless steel slide. The rear sight is the usual dovetailed affair with a white vertical stripe in the center. The front sight, also dovetailed, is tritium. This version of the P-220 comes with checkered wooden stocks. The frame is aluminum and is nicely black anodized. Unlike earlier P-220's, this one's slide is machined from a billet of steel. It is not a folded steel shell with a solid steel breach block pinned in place as on the earlier P-220's. (I find this neither an advantage or disadvantage, as I've not seen heavily shot older P-220's exhibit any catastrophic slide failures. Some SIG-Sauer aficionados prefer the older design, remarking that the heavier machined slides are too "top heavy." This would be a decision for the individual shooter to decide. I own both types and do not favor one over the other in this regard.)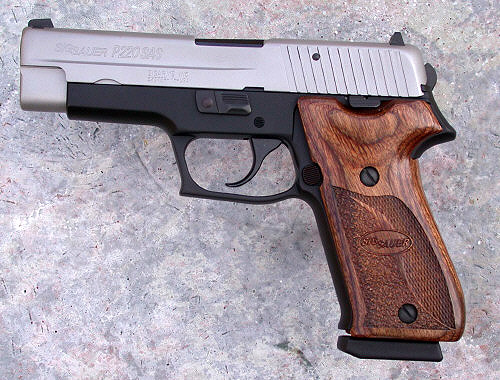 This is the test pistol used for this report. It is stock other than for a narrow strip of "anti-skid" tape on the front grip strap. The takedown lever is in the place normally associated with the 1911's slide release. On this pistol, the slide release is located over the left grip panel. There is no decocking lever on SIG-Sauer's DAK pistols as it is not needed whatsoever. The pistol's barrel is 4.4" long and twist rate is 1:16". It weighs in at 31.2 oz. and has a 6.3" sight radius. The P-220 SAS measures 7.8" long and 5.5" high. It has the "green" spring, which is for service level loads.
Ammunition Used: I have fired this pistol several times and have found it to be utterly reliable with the following factory loads:
Corbon 165-gr. DPX (Compact Gun Load)
Corbon 165-gr. Pow'R Ball +P
Taurus 185-gr. Hex Head Hollow Point
Corbon 185-gr. DPX +P
Federal 185-gr. JHP
Corbon 200-gr. JHP +P (discontinued load)
Winchester 230-gr. Ranger JHP
Remington 230-gr. Golden Saber
Speer 230-gr. Gold Dot
Federal Classic 230-gr. JHP
Federal 230-gr. HydraShok
Chronographed velocities were in line with what I've seen from the 4.25" Commander.
For today's shooting, the following ammunition was used:
Kead 230-gr. CRN
6.3-gr. Unique
WLP Primer
Winchester Case
Hornady 230-gr. JFP
6.3-gr. Unique
WLP Primer
Winchester Case
Speer 230-gr. Gold Dot
6.3-gr. Unique
WLP Primer
Winchester Case
Precision 200-gr. CSWC
5.0-gr. Bullseye
WLP Primer
Winchester Case
One factory load was tried today. It is Remington's 185-gr. FMJ. This flat-point bullet averaged 991 ft/sec based on 10 shots fired approximately 10' from the chronograph screens. The 200-gr. Precision CSWC averaged 857 ft/sec. The 230-gr. handloads were all in the 820 to 840 ft/sec range.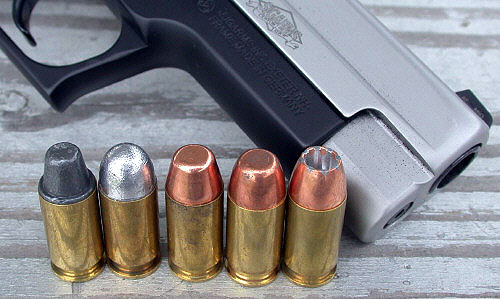 Five different loads were used in today's shooting. The only factory load fired is second from the right and is Remington's 185-gr. "MC Flat Nose".
Shooting: Though the DAK system was not envisioned as a bullseye shooter's action, I did shoot a few slow-fire targets at 15 yards. These were fired seated and using a two-hand hold with my wrists braced.
Several "practical" defensive type drills were also done. Past sessions at 25 yards and 50 yards have shown me that one can do some pretty nice informal "target shooting" if desired.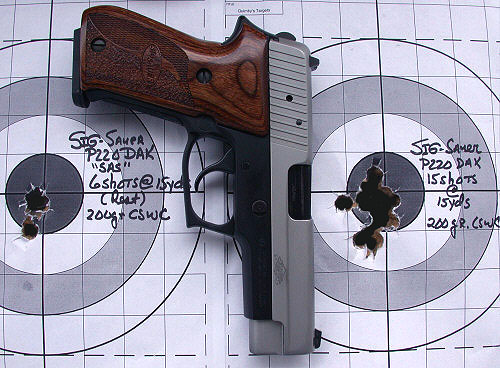 Both of these groups were fired at 15 yards. The group on the left was the best of the day while the one on the right, even though containing more shots, was typical.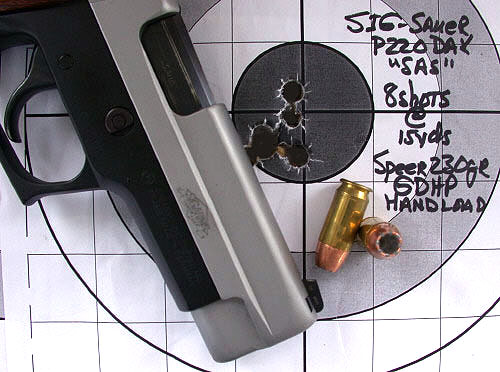 The P-220 DAK SAS fed the Speer Gold Dot handload just as reliably as it has every other load that I've tried in it…100% reliably.
Higginbotham Standard Handgun Controllability Drill: Mr. Higginbotham, a veteran federal law enforcement firearm trainer, has a simple test that he recommends to see how well a given handgun is handled by a given individual. In its pure form, a piece of folded typing paper is used as to make a rectangular target measuring 5 1/2 x 8 1/2". I didn't use this target. Instead, I used my hand drawn "Gort" targets. The circular dotted area has about a 5 or 5 1/2" diameter.
To perform the drill, one starts in the low-ready position using two hands and must get 5 shots on the target in no more than 2 seconds from a distance of five yards.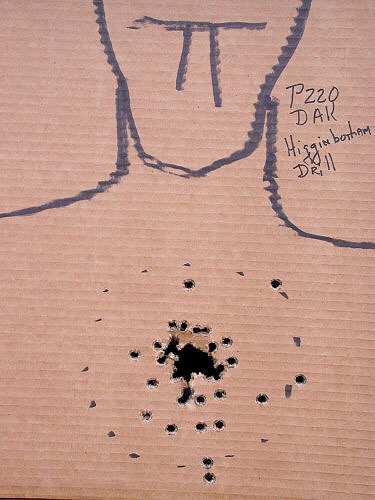 Here are the results of ten runs of Mr. Higginbotham's controllability test using the 230-gr. Hornady handload. Using a Pact timer for each of the ten runs, average time was 1.80 seconds. I am certain that other folks can easily best this but I suspect this would probably be satisfactory in a serious situation.
Draw-and-fire: This one is just what it sounds like: At 7 yards, at the timer's signal, I drew and fired (two-hands) one round into a target and repeated ten times. I neglected to photograph that target but results were similar to the previous picture. Average time: 1.41 seconds.
Failure-to-Stop Drill: Also referred to as the "Mozambique Drill", this one has both its fans and detractors. I am neither recommending nor condemning it for "real world" use. It is used only to see how well the DAK P220 SAS might or might not be able to perform. Many folks have shot this exercise and know their average times with their weapons of choice. It is included so that they can compare the DAK's times with the ones they're familiar with using their own guns.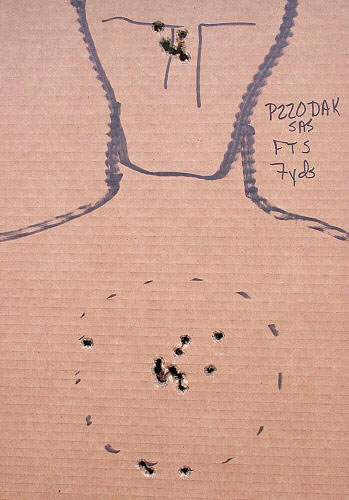 Repeated seven times from the low-ready and using two hands, average time was 1.86 seconds. This is 0.06" longer than the time I required firing five shots in the controllability test. Obviously, more time was taken making the precise shot to the head. Ammunition used was the Kead 230-gr. CRN handload.
Observations: This part is subjective: I like the DAK system. From what I've seen and read, those of us more comfortable with the revolver tend to like DAK. Those of us preferring the tuned 1911-pattern pistol view it less favorably. I see it as a viable and imminently useable DAO for people simply uncomfortable with cocked-and-locked or who are forbidden to use it. Though not an "officially recommended" mode of carry, the DAK might very well cause its user less concern if a situation arose in which the gun (with a chambered round) was simply stuck in the waistband than a cocked single-action.
It might be of use in the household where one member might be most familiar with the proper technique for effectively employing a single-action automatic but another is not. Like the Glock, double-action revolver, and the XD, SIG-Sauer's DAK line of handguns are "point-and-pull" firearms. There are no thumb safeties to be forgotten by the unpracticed. It is for this very reason that I use the one in this article as a "house gun"; my wife can make it fire w/o fail. In no way am I urging anyone to abandon his or her preferred "serious gun". I am suggesting that if you have not been able to make a decision or have to exclude the single-action auto, the DAK (also available in other SIG-Sauer modes & calibers) might be worth a serious look.
Positive Observations: First, the pistol has now fired roughly 1000 shots. It has had exactly zero malfunctions. There have been no failures to feed, extract or eject. Chambering of all round tried has been flawless and smooth. (A nice surprise was that this particular pistol feeds the 200-gr. Precision CSWC as slick as butter on glass. My other P-220 (conventional DA/SA) will only feed reliably with no more than five rounds in any magazine. This one feeds off of a full eight-shots loaded in either of the two stainless steel magazines coming with the gun, as well as with several 7-shot magazines, both new and older manufacture.)
The pistol has had no failures to lock the slide back when the last shot has been fired nor has it locked open with rounds still in the magazine. The magazine seats reliably without undue force when fully loaded and none have failed to drop freely when the magazine release is depressed.
Ejected cases are rarely dented and then it is very minor. They land 8 to 10 feet to the right of the shooter and in a consist area.
The pistol has plenty of mechanical accuracy. It is capable of better grouping than I am and the gun has exhibited no "first round flyer syndrome". All shots smack the same POA for me.
Primer strikes are centered and there have been no failures to fire and the internal firing pin lock does not affect the trigger pull that I can detect.
The trigger pull does not stack and it allows for the "surprise break" that many find conducive to accurate shooting.
The spurless hammer helps eliminate concerns over snagging from a concealed draw. (I have not seen spur hammers snag when drawn from a holster, whether concealed by either a coat or jacket but the spurless lowered hammer does lessen this miniscule possibility.
Mechanical lock-up of the barrel is tight but smooth, as is the slide's operation. There is very little vertical or lateral movement of this pistol's slide on the frame; i.e. slide-to-frame fit is very good.
Though I have no intention of changing this pistol's sights, front and rear sights of varying heights are available from SIG-Sauer as well as other makers. The tritium (front) night sight glows very brightly in the dark and there's no missing it. Though subjective, I find the sight picture on the SIG-Sauer very satisfactory as it comes from the factory but for those who don't, several other aftermarket sights are readily available.
There is neither a damned key lock ala current S&W revolvers nor a magazine disconnect.
Though I've only fired about a thousand shots through this pistol, visible wear is almost nonexistent.
Negative Observations: Earlier I alluded to putting a piece of anti-skid tape on the pistols front grip strap. The P-220 SAS DAK comes with a smooth one. I would much prefer that it be checkered or grooved for better purchase with sweaty hands or in a wet environment.
Though I find them very attractive, the factory wood grips are fairly thick. I find them about at my outer limit for easy use. Folks with smaller hands will probably find them too large. (Factory plastic or thinner aftermarket grips are available but be sure to specify that they are for the DAK version.)
Purely subjective, I find the rounding of the sharp edges on the slide to be too much. I would have preferred these to have been rounded but not so severely.
The beveled magazine well is minimal but that said, I've not had any problems with "speed reloading" and certainly none with "tactical reloads". Top competition shooters might feel slowed down with the level of beveling on this particular model. On the other hand, more aggressive beveling would result in a much thinner wall around the magazine well than the current thickness.
The DAK system has two different reset distances. The lighter one is employed when the trigger is completely released between shots. Releasing the trigger approximately halfway allows for a shorter reset, but one that is a little heavier. A barely audible "click" can be heard when releasing the trigger reaches that reset point. For me it is too difficult to "find" in a hurry. I just release the trigger completely and begin my next trigger pull, ala double-action revolver shooting.
I like it that this model comes without the accessory rail on the frame but others will find this appalling.
I would prefer this pistol with a full 5" barrel. While some versions of the P-220 can be had in this length, I don't believe that the DAK can be. For me, the hard part of the gun to conceal is the butt and that would be the same on either a 4.4 or 5" gun. Gained would be tiny bit more sight radius as well as velocity for the not so fast .45 ACP. That said, I'm not going to whine much about the missing 0.6" of barrel.
Conclusion: From what I've seen on a statistically invalid number of P-220 DAK SAS pistols, this one and a friend's, they appear to be well-made and reliable in the extreme with more than adequate mechanical accuracy. I believe that for many, their design will provide plenty of "practical" or "user" accuracy. This handgun can hold 9 shots of .45 ACP in normal trim. I believe that for most of us, we'll either solve the problem or run out of time before we do ammunition. SIG-Sauer does offer a 10-shot magazine for the pistol for those wanting all they can get in a single-stack magazine.
This pistol is easy to carry in a quality holster and with a good gun belt. For a service-size handgun, it is not that difficult to conceal in my experience but for me it shines as either a non-concealed holster sidearm or one for home defense.
I have read of shooters having some problems with some types of ammunition in their 8-shot stainless P-220 magazines. I have not experienced this in either the 8 or 7-shot, the latter being both older and current manufacture. There have also been some complaints concerning failures to feed and eject. All makers apparently have some guns that get out when they shouldn't and I reckon that includes SIG-Sauer. Having said that, I have experienced no problems whatsoever with my P-225 or P-229R 9mm pistols. Ditto, my older P-220 mentioned earlier.
Assuming that the pistol "fits" the shooter, I truly believe that the DAK system and the P-220 SAS can provide a very effective "serious gun"…as well as one that's just a heck of a lot of fun to shoot!
Best.