Comparison: S&W Model 60 vs. Ruger SP101
When revolver fans congregate, comparisons between round guns from S&W and other makers are not unusual. These can be detailed, helpful and well-considered or done with the, "I-decree-this-so-no-other-talk-is-needed-'nuff-said" ego-driven drivel seen (too) often at Internet firearm forums. It almost appears that some consider it at least a minor sin that a company other than S&W (or Colt) have actually manufactured a wheelgun. And then they dare say it has "quality"!
Let's make a comparison between the current S&W line of Model 60's and Ruger's SP101's.
S&W Model 60 & Ruger SP101 38/357 Specifications
| | | | | |
| --- | --- | --- | --- | --- |
| Specification: | S&W M60 | Additional Comments: | Ruger SP101 | Additional Comments: |
| Construction: | forged stainless steel | | Cast stainless steel | |
| Stocks: | synthetic | | synthetic | Now using Hogue * |
| Cylinder Capacity: | 5 | | 5 | |
| Sights: | Fixed on 2 1/8" bbl | Adjustable on 3" bbl. Front serrated ramp is blackened and pinned to bbl. | Fixed on both 2 ¼" and 3 1/16" inch bbl's in these calibers | Front serrated ramp is blackened and pinned to bbl for better visibility. |
| Hammer: | Exposed, spur | | Exposed | Some versions available with hammer spur removed |
| Trigger: | Smooth | DA/SA pull weight(lbs.): 12/3 | Smooth | DA/SA pull weight(lbs:): 13/5 |
| Weight Empty (oz.): | 2 1/8": 22.5 | 3": 24 | 2 ¼": 26 | 3 1/16": 28 |
| Barrel: | Heavy | Full-length underlug | Heavy | Full-length underlug |
| Twist (inches): | 1:18 ¾ | | 1: 18 ¾ | |
| Revolver LOA: | 2 1/8" bbl: 6 5/8" | 3" bbl: 7 ½" | 2 1/4" bbl: 7" | 3 1/16"bbl: 7 7/8" |
| Frame Width: | 0.534" | | 0.708" | |
| Top Strap thickness: | 0.178" | | 0.192 (front) to 0.229" (rear) | Top strap tapers |
| Cylinder Assembly: | Swing-out | Locks front and rear | Swing-out | Locks front and rear |
| Cylinder Rotation: | Counterclockwise | | Counterclockwise | |
| Internal Storage Lock: | Yes | Visible above cylinder thumb latch | Possibly Pending | Not visible. Beneath stocks |
| Mainspring: | coil | 8.5-lb. standard | coil | 14-lb. standard |
| Firing Pin: | Frame-mounted | | Frame-mounted | Transfer bar |
| Safe to Carry Fully-loaded | Yes (All S&W revolvers are.) | Internal safety block | Yes (All Ruger revolvers are.) | Transfer bar |
*Ruger's OEM grip maker went out of business and Hogue is now supplying grips for the SP101.
Originally, Model 60's were available only in .38 Special though that's obviously changed, with current versions chambered in .357 Magnum. The SP101 was originally chambered in the magnum round, but limited bullet-weight to 125-gr. due to a shorter cylinder on early guns. That problem has long been corrected and SP101's can be loaded with heavier bullets.
A point of contention remains Smith & Wesson's forged frame construction versus Ruger's use of quality investment castings. Some argue passionately that no casting can match a quality forging for strength and that the cast parts must be larger than their forged equivalents because of it. I am not a metallurgist so I do not know. I am a shooter and Ruger revolvers have developed a long-term reputation for toughness and durability. From gun shop range-rental personnel to ammunition makers, I continue to hear tales of the Ruger's handguns seemingly near indestructibility! Some reloading manuals offer loading data specifically for some Ruger handgun models that is considered too severe for other makers' handguns.
The flip-side to the "debate" remains that the S&W revolvers are usually "more refined", have considerably fewer tool marks coupled with significantly better trigger pulls.
<![if !vml]>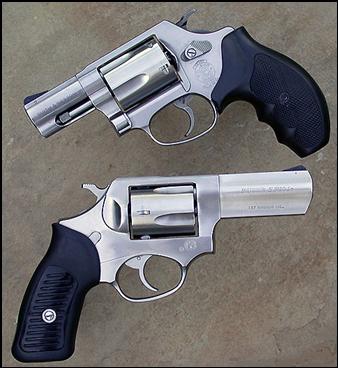 <![endif]>
Shown are an S&W Model 60-9 in .357 Magnum and sporting a 2 1/8" barrel. Below it is a Ruger SP101 with the 3 1/16" barrel. Both Ruger and S&W have their devout faithful and detractors while others see advantages to using both.
<![if !vml]>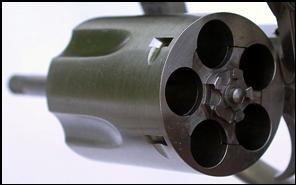 <![endif]><![if !vml]>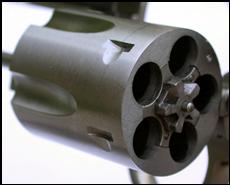 <![endif]>
The S&W Model 60 (left) cylinder's diameter measures 1.309" compared to the SP101's (right) at 1.353, greater than the J's but less than the K-frame cylinder at 1.446". Note that the bolt cuts are between the charge holes on the S&WJ-frame cylinder but not as much so on the Ruger. Is this due simply to design differences or the thinner cylinder walls on the S&W?
<![if !vml]>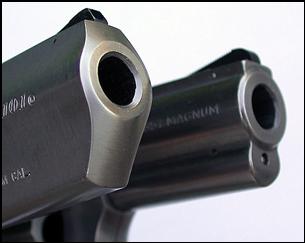 <![endif]>
Both of these all-stainless steel revolvers have shrouded extractor rods with full-length lugs that add recoil-dampening weight and help reduce muzzle flip. Both have darkened serrated ramp front sights that many find easier to define than light-colored stainless steel. Both of these front sights are snag-free and in my experience, quick to find at speed and each is 1/8" thick.
Whether it is due to cast parts "needing" to be bigger for equivalent strength to forgings, I do not claim to know, but the SP101 is slightly larger than the J-frame. Dimensions provided in the chart along with accompanying weights prove this, but as can be seen in the preceding photograph, size differences are not extreme. If a person chooses one over the other, the reason will almost certainly not be the gun's size.
Having shot both 3" Model 60's frequently as well as 3 1/16" SP101's, I find that the S&W does have lighter trigger pulls in either double or single-action than the SP101 but the S&W is not always necessarily smoother; that seems to be dependent upon the individual gun. On paper and against the clock, I have noticed no real world differences between the two, but my personal, subjective preference in this case is for the Ruger. I find its original synthetic-with-insert stocks more comfortable. Couple that with its slightly heavier weight and I simply prefer shooting the SP101 to the magnum Model 60. An electronic timer shows no real, consistent "winner" between the two, at least in my hands and I have seen no reliability differences between the two. I wish that S&W still offered a 3" Model 60 having both a heavy barrel and fixed sights…and no internal storage lock. That might very well change my decision.
Like many reading this, my personal revolver preferences were S&W for either recreational or "serious" revolver choices. That changed after putting an SP101 through its paces. I suggest that if you happen to be in the market for either a small snub or compact 357 all-steel revolver, not to immediately turn up your nose at the Ruger.
Trust me; owning a Ruger has in no way diminished my passion for S&W wheelguns. It is very possible to use and appreciate, both.