Arotek Night Sights: Glock 17
It is no secret that Glocks normally seen in the US have traditionally come with plastic sights front and rear. Some shooters make no changes to these sights while others replace them posthaste. I do not care for Glock's factory standard plastic sights, though it is not their "fragility" that bothers me; it is the front sight's width. The one I removed from my Glock 17 measured 0.161" wide. Some folks prefer these wider sights (right on up to the very large "express sights" currently in vogue), citing that they are quicker to pick up in a close-in self-defense emergency. I respect their decisions but for myself, I prefer something more traditional…and narrow.
In recent times, I have moved away from my usual black-on-black handgun sight preference to at least a serrated ramp front with a white dot. This is due to my eyesight being less acute as the years roll by…dammit! (At least some of those reading these words know exactly what I mean; the edges of their front sights seem to be "growing whiskers" as well. With or without my prescription shooting glasses, I find the front sight easier to see with the dot.
Never having been a fan of tritium sights, it is only in the last few years that I've owned even a single set…and the first one was an accident; Novak's sent me a tritium replacement front sight for one of my Mk III Hi Powers.
I kind of liked it and continue to use it with the plain black Novak rear sight. A few years later I bought a SIG-Sauer P220 DAK having a glowing front sight but standard painted white bar rear. I sort of liked it, too. Eventually I bought a Glock 19 with factory "Glock night sights", though I believe that they are actually manufactured by Meprolight.
In the meantime, another Glock 17 managed to find its way into my possession and I pretty quickly decided to kill the proverbial "two birds with one (glowing) stone"; I would fit the pistol with metallic night sights. On the Internet forums, opinions were split between the various makers such as Trijicon, Heine, Meprolight and others, but I decided to go with a set of 3-dot night sights from Arotek. The reason was simple. I have been satisfied with their black-on-black and white dot sights for quite a while now. Their sights are easy to install and mine have held true on a couple of Glocks for several years. Neither do they break the bank to purchase.
The rear sight resembles the design made famous by Mr. Wayne Novak. People who feel the need to be able to use a more vertical rear sight for an emergency one-handed racking of the slide will not be impressed. Others will opine that this design is more comfortable if the pistol is carried close to the body in an older holster, which lacks the "slide shield" more common in newer ones. Whether or not these sights are satisfactory depends upon individual shooter and I'll leave the pros and cons at that.
Removing the factory sights is no problem. The factory polymer rear sights drift out easily and the front sights are removed by either punching out the pinned ones or unscrewing the newer steel sights that are screwed on. Glocks with the staked-on steel front sight such as the Austrian proof-marked ones sold here can be removed with an appropriate sized punch but they are the toughest I've removed. The others are a snap.
The Arotek steel front sight is attached via a screw having a 3/16" six-sided head and it comes with its own tubular nut driver. The sight's tenon simply fits into the empty slot where the factory sight was removed and is held there by the screw which holds the sight on from the bottom, i.e.; inside the slide.
<![if !vml]>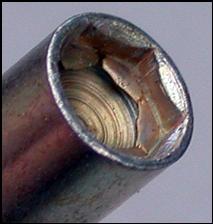 <![endif]><![if !vml]>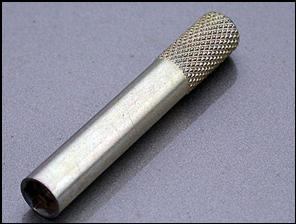 <![endif]>
Arotek supplies a nut driver with their front sights. Installing the front sight is as easy as can be.
<![if !vml]>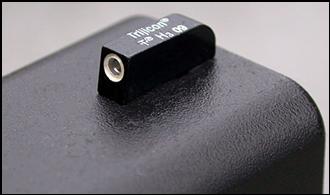 <![endif]>
Installed, this Arotek night sight (obviously made by Trijicon) fits the pistol just fine. I have used several sets of Arotek sights. None have been loose. All fit snugly and have remained so for thousands of shots. (I do use loctite on the threads to insure this.) This one measures 0.129" wide x 0.189" high. Arotek offers serrated plain black front sights as well as night sights. They also have them with the popular white dot. (For whatever reason, the white dot front sights I have are slightly wider than the night sights, measuring 0.141".)
Arotek supplies instructions here: http://www.arotek.com/default.aspx?page=InstallInstructions&ai=1
The rear sight slides in the rear notch easily with finger pressure when the clamping screws are loosened, allowing play with the "clamp" that actually fits into the dovetail. Arotek has both a diagram and instructions on this simple process here:
http://www.arotek.com/default.aspx?page=InstallInstructions&ai=2
<![if !vml]>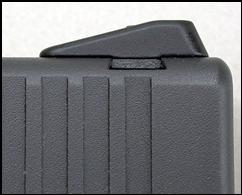 <![endif]>
Here is the Arotek rear sight in place before being tightened. Once it is zeroed for windage, loosen one screw and apply loctite. Tighten it back up and then repeat with the other. Remember also to use the short end of the allen wrench to tighten so that you don't inadvertently strip the screw.
<![if !vml]>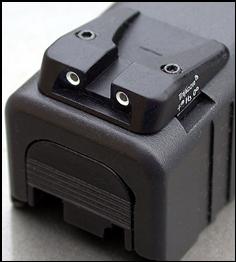 <![endif]>
This is the Arotek rear sight equipped with Trijicon glowing "dots". You can easily see the two little allen head screws that tighten the clamping system holding this sight in place. Arotek offers rear sights in plain black, white dots or night sights like these. This one measures 0.151" high.
<![if !vml]>

<![endif]>
For comparison, on the right is the Glock factory night sight, which I think is manufactured by Meprolight. On the right is the Arotek-Trijicon.
<![if !vml]>

<![endif]>
On the left is the Arotek-Trijicon rear sight compared to the Glock-Meprolight on the right.
Elevation changes can be made using rear sights of different heights should it be necessary. My suggestion is to shoot your pistol with the factory sights. If it is "on", the standard Arotek replacement set for that model should work just fine; at least this has been my experience with the last three Glocks I installed them on. (You are not limited to sight sets.) Front and rear sights can be purchased individually if desired.)
I recently shot a Glock 17L having a point-of-impact consistently 2" high at 15 yards using the factory sights with the adjustable rear screwed all the way down into its lowest position. I contacted Arotek via their toll-free phone number and spoke with a technician who suggested a "-1" rear sight when I relayed the POI vs. POA information. I've not yet tried this combination but I suspect it will work. We'll see. In this instance as well as in the past, I found Arotek a pleasure to do business with.
<![if !vml]>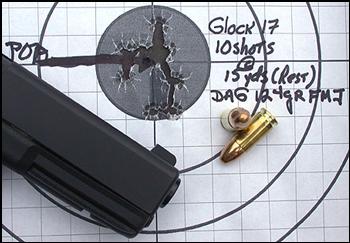 <![endif]>
Point-of-aim is indicated by the arrow and was the center of the 2" diameter dark bullseye. Ammunition was from Dynamit Nobel with a "DAG" head stamp.
<![if !vml]>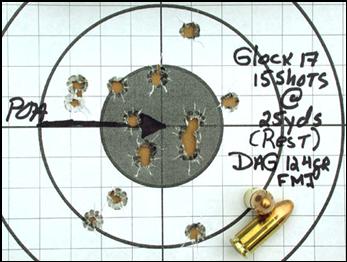 <![endif]>
This group was fired at 25-yards using the same ammunition. I fired both it and the previous group from a seated position in slow-fire and with both wrists sandbagged.
Will Arotek sights be "perfect" for everyone? Probably not, but they have certainly met my needs over the years and have been problem-free. They are low-profile, snag-free and hold true once installed using the appropriate loctite for gun screws that might need to be loosened in the future. I am in no way affiliated with this company and have received no payment for this article; I simply like their sights.
If you think that you might, too, take a look here:
http://www.arotek.com/default.aspx?page=InstallInstructions&ai=1
<![if !vml]>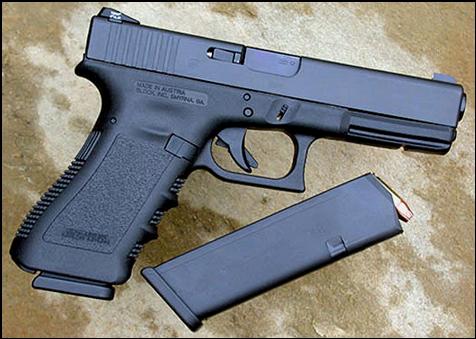 <![endif]>
Here are the Arotek night sights installed on my 3rd Generation Glock 17.
If you happen to own a Glock and are considering changing the sights, I'd sure include Arotek to my list of sight manufactures to check. They also offer other parts as well as entire customized Glock pistols, but I have not tried anything but their sights.
Best.