---
Navidrex Hi Power Stocks
Hello. For several years now, I've pretty much stayed with Craig Spegel's excellent checkered aftermarket grips for the Hi Power and have been well-satisfied but have ventured about with the non-gone Michael of Oregon checkered rubber ones as well as those from Pachmayr and others and have used the "Gunner Grips" from Simonich.

In wood, I've stayed either with the factory stocks, which are sometimes described as "blocky" by some folks, or those by Altamont or Hogue and again, I've been pretty well happy with them. Mr. Hakan Pek's Hi Power grips have been very nice as well.

I had never owned a set of Navidrex grips but had shot a handgun or two so-equipped so I decided I might need to order a set for the Hi Power. I opted for their thin and checkered version, which is made of micarta. These do not have the palm swell offered by some of their other Hi Power stocks but are thin and seem very similar to my checkered delrin grips made by Spegel. (At the time I bought mine, you could get them in any color you wanted so long as it was basic black.)

Anyway, the Navidrex checkered micarta grips arrived today and they dropped onto one of my 9mm Mk III Hi Powers with zero muss or fuss and absolutely no fitting! As Hi Power shooters know, sometimes, some aftermarket stocks require a bit of fitting due to the non-flat style of grips required. Another fly in the ointment is that some grips fit the older forged frame Hi Powers better than the newer cast frame ones. This one fit better than expected in this respect!

At this point, some will think that I'm having a senior moment and drifting away again when I mention the old '60's series, "The Untouchables", where eternal bad guy, Frank Nitti was portrayed by actor, Bruce Gordon. If memory serves, Gordon's Nitti often wore dark clothing but with a white tie.

Anyway, I call these Navidrex grips my "Nitti Grips" because it sounds nicer than my "Who**house Hi Power Grips".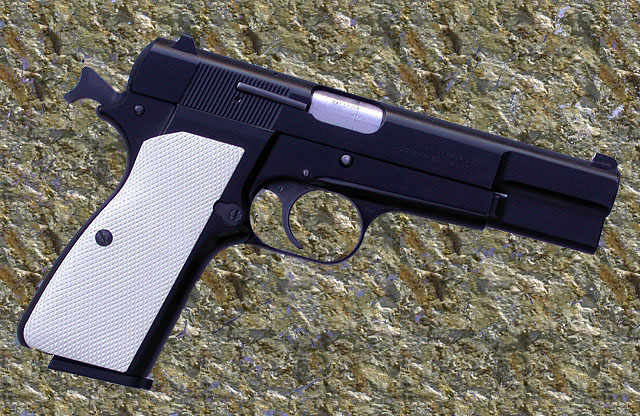 These will never be mistaken for elephant or seal ivory but and I'm not really sure if I like them or not...with respect to color. They feel much like Spegel's checkered delrin grips .

...how they fit along the back grip strap...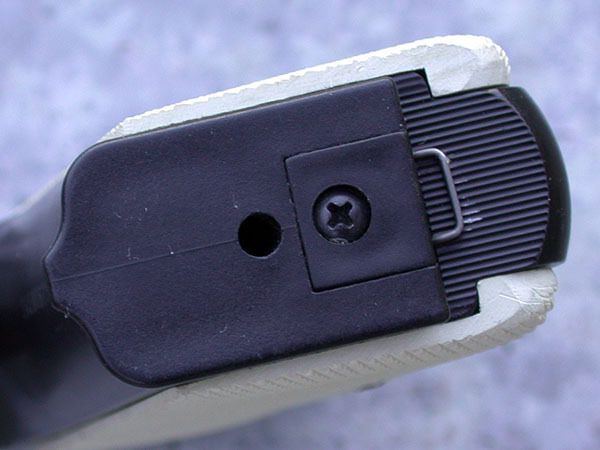 ...and from the bottom...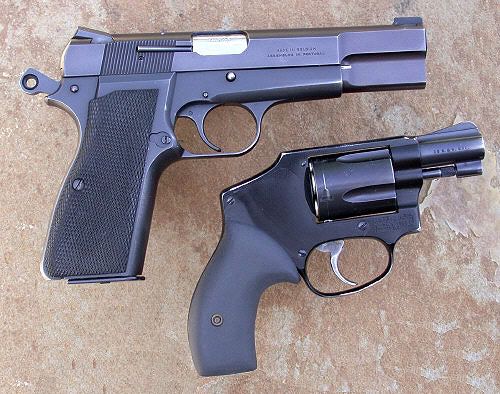 The Hi Power in this picture is the same as is shown in the next photograph to provide a side view of Mr. Spegel's Hi Power grip.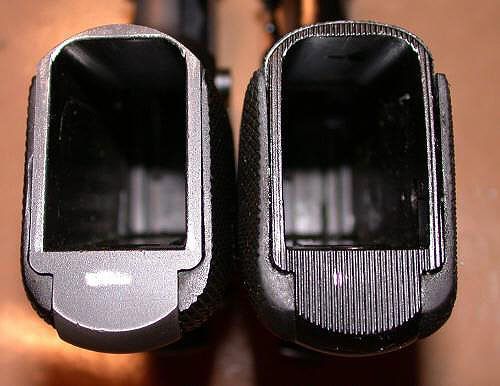 This is a picture I normally use to show the "ripples" visible on today's cast frame Hi Powers vs. the older forged frame. In the picture above, you can see the fit and contour of Spegel checkered blk delrin stocks on the Hi Power on the left. The one on the right is wearing a set of the Uncle Mike's rubber stocks.

To me, the primary difference in"feel" is at the rear rounded edge of the grip. Spegel's are a bit more rounded than the Navidrex. There is a difference in feel but it is not much...at least to me, and I understand that this comment is completely subjective.

Understanding that there is no way to let reader's know if these grips would or wouldn't be comfortable to them, I did the only thing I could beside the provided photographs; I took a few measurements between the Navidrex and the Spegel.

Here they are:

Navidrex:

At thinnest point (front edge): 0.072"

At thickest point (rear bottom): 0.262"

Taper toward front (measured in front of the thickest portion of the rear of grip to the front edge): 0.120 to 0.072"

As you know, part of the Hi Power grip extends into a cutout in the frame. The Navidrex grip extends into it 0.056".

Spegel:

At thinnest point (front edge): 0.071"

At thickest point (rear bottom): 0.255"

Taper toward front (measured in front of the thickest portion of the rear of the grip to the front edge): 0.073 to 0.071" or almost flat on the sides.

Mr. Spegel's delrin grips extend into the frame cutout 0.087"

...so the two grips are different in dimensions.

I know that Spegel's checkered delrin grips "hold up" under constant use because my old "Duty Hi Power" wore them for years. I think that these Navidrex will prove durable but I have no personal long-term experience with them so I cannot say that I know but I strongly suspect that they will.

My sets of Spegel derin grips were purchased years ago but cost well over a hundred bucks then. I bought the Navidrex white micarta's via www.brownells.com (Product No. 647-035-100) but they can also be had in a more conservative black (Product No. 647-035-101) for those not really into the "pimp look".

Again, I find these quite secure and comfortable and they required zero fitting on this gun with this pair and they fit nicely so that the grip screw on each side doesn't have to be torqued down to the max. They are relieved to work with the extended ambidextrous thumb safety levers on Mk II and Mk III Hi Powers.

I also found that these grips did not interfere with magazines dropping free when the magazine release button is depressed as this gun is w/o the magazine disconnect.

You may or may not be interested in a set of these Navidrex grips or their thicker wooden ones, which have palm swells, but I think that if you are in the market for Hi Power grips, the Navidrex might just warrant a close look.

Best.