User Report: Tuff Products' "Pocket-Roo" Holster
Approximately 8 months ago I purchased a Tuff Products pocket holster designated "Pocket-Roo". I appreciated the design incorporating a 5-shot "QuickStrip" reload within the holster and consistently positioning this QuickStrip perfectly for strong-hand retrieval and loading. At just under $25 a pop, I could not resist trying the holster.
For folks not seeing the original article by Mr. Brudenell, it can be found here:
http://www.hipowersandhandguns.com/holsters_by_tuff_products_and_akjconcealcoBrudenell.htm
I have carried my Tuff pocket holster without fail for approximately eight months. This means every single day from the time I get up until I go to sleep at night, the holster has been in my right front pants pocket carrying my S&W Model 642 and the 5-shot QuickStrip containing Remington 158-gr. LHP +P ammunition. It was not carried "an hour here" and "two hours there", but continually each day, all day (and sometimes night) long. In no instance did anyone notice that I was carrying a firearm (legally) concealed. This holster breaks up the snub's outline as well as any I've ever tried.
Admittedly, this is not an extremely long-term "torture test", but I opine that it is enough to determine a few things about this product.
<![if !vml]>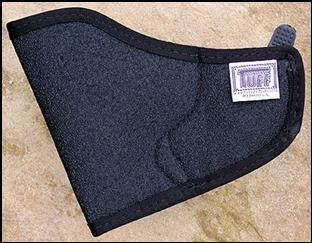 <![endif]>
Here is a brand new Tuff Products' Pocket-Roo" pocket holster for S&W J-Frame revolvers. The end of the included 5-round QuickStrip is visible at the right upper edge of this pocket holster. The holster is made of a rubbery feeling laminate that seems to be pretty well "sweat proof". Unlike some of my more costly pocket holsters of either leather or horsehide, I have found no evidence whatsoever that perspiration penetrates this material. I found very definite signs that it did so in my leather pocket holsters. (That might not be much of an issue in some climates, but it definitely has been a consideration for me during much of the year here in Texas.)
<![if !vml]>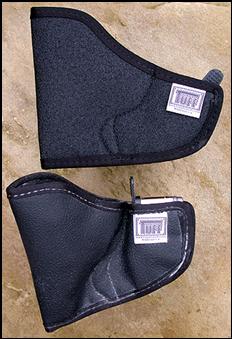 <![endif]>
In this picture you can see the brand new Tuff Pocket-Roo (top) compared to my well-used one below. While it is visually evident that constant surface wear has smoothed the texture of the holster's outer surface, it is still plenty "snaggy" and the holster has never come close to accompanying the draw snub out of the pocket. It is just not an issue, at least not in docker-style pants. I carry in the right front pocket and the holster quickly adjusts from flat when new to the contours of the user's leg. Shielded by the holster in which they are carried, cartridges within the QuickStrip do not show wear (especially those with unjacketed lead bullets) as they can if carried loose in a pocket.
<![if !vml]>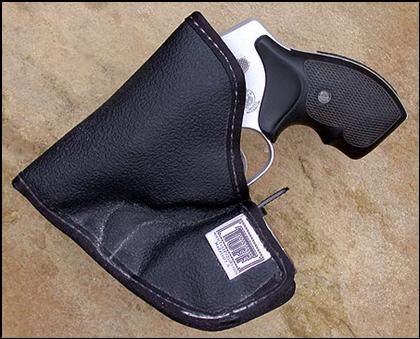 <![endif]>
This open-bottom pocket holster has not become stretched or loose. Though its tension alone is not enough to hold the revolver if turned upside down, it is plenty sufficient to keep the revolver in the holster inside a pocket. I have not experienced a single instance in which did not, and the same has held true for the QuickStrip of ammunition. Though barely, the trigger is covered by this holster, though I do not find that quite the safety issue that it can be for some autoloaders. In any event, I find nothing unsafe with this holster.
<![if !vml]>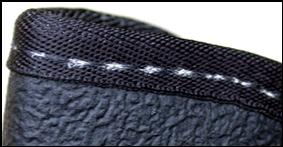 <![endif]><![if !vml]>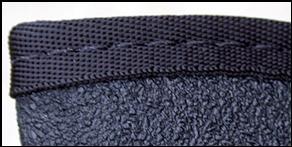 <![endif]>
On my used Pocket-Roo (left), the black stitching has been worn enough that the color is gone or a daily dose of sweat, lint or other debris has been ground into it; I do not know which. On the right is the new one and this difference is readily visible. Nothing has come loose from the holster and tugging at it doesn't seem likely to do so. Everything is hanging tough (Pardon the pun)! The inside of the holster "facing" my leg exhibits more light-colored stitches than elsewhere. This is just not proving to be of any concern but since it is visible, I wanted to mention it.
They are not uncomfortable by any means when new but do become more comfortable as they "form fit" to your upper leg's shape though use; at least that how it seems to me. Based on what I've observed so far, I fully expect this holster to hold up fine for years to come and when time comes for a replacement, it won't break the bank.
At the present time, I favor this pocket holster to any I've used previously.
If you happen to be interested in this company's pocket holsters, take a look here for pricing and firearms for which they are available:
http://www.tuffproducts.com/home.php?cat=268
Best.
PS: I am not and have never been an employee or representative of Tuff Products. I am not paid by them for advertising. I bought my Pocket-Roo holsters and believe them to be a quality product and am simply sharing my observations with fellow members of the shooting a community.