Hogue "Extreme" Series Aluminum Grip Panels for SIG-SAUER P220
My newest P220, a conventional DA/SA, .45 ACP pistol came from the factory wearing SIG-SAUER's "slim" grip panels. A while back, I ordered some of these for another P220 (SAS w/DAK) I owned. It appears that they are now stock on P220 pistols.
For folks who might be interested in these relatively inexpensive thin grip panels, here is the link:
http://www.hipowersandhandguns.com/SIG-Sauer%20P220%20Thin%20Stocks.htm
Though I found these polymer grips comfortable enough and with plenty of "traction" due to their textured surface, they actually felt a little bit too thin and too short from front to rear. Just as the original wooden stocks that came on my P220 SAS were slightly too bulky for best work, these were just a tiny bit small for me, though I certainly found the pistol easy enough to use with them.
Checking around and reading what other folks had to say about various grip panels for the P220, I began looking at Hogue's "Extreme" series of anodized aluminum checkered grip panels. I have a set of their fancy checkered wooden stocks on my older P220 and really find them comfortable, though I would have preferred checkering on the rear of them rather than smooth wood.
Hogue's "Extreme" checkered aluminum stocks are checkered on the rear and based on what I'd read, I coughed up the $109.00 to buy a set. I purchased mine from Mr. Greg Cote via his site at:
By the way, I was extremely pleased with this company's prices, quick communication and delivery of the product, which was exactly as described. Yup! If this sounds like a "plug" for Mr. Cote & company, that's because it is, and it was unsolicited.
The stocks arrived three days from the time I ordered them. Wasting no time, I put them on my current P220. Cutting to the chase, they fit very nicely.
<![if !vml]>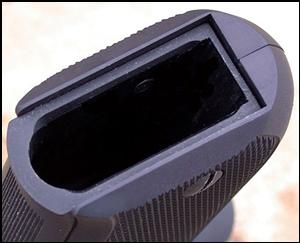 <![endif]>
Here you can see the stock-to-frame fit around the magazine well. The seam at the rear of the grip panels appears more "significant" than it is. When the screws are tightened down, they do not enter the magazine and do not affect magazine insertion or removal whatsoever.
<![if !vml]>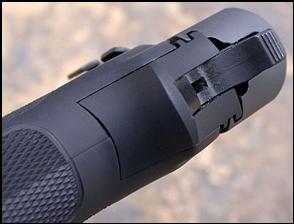 <![endif]><![if !vml]>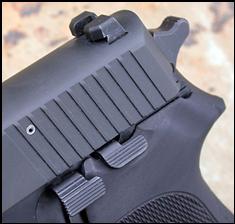 <![endif]>
Here are the Hogue black anodized checkered aluminum "Extreme" stocks from the upper rear of the pistol and left side at the decocker lever and slide stop.
<![if !vml]>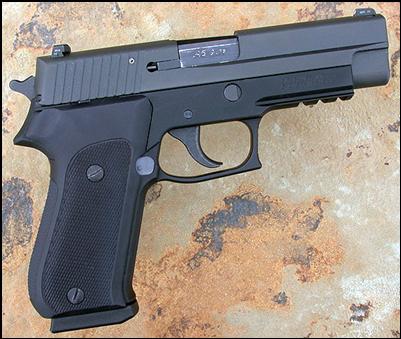 <![endif]>
Beauty is definitely subjective and "in the eye of the beholder", but I find these stocks not only good looking but very comfortable and offering a really secure grip on the pistol.
Shooting the pistol with these stocks in place yielded no unpleasant surprises. The sharp checkering was not uncomfortable during my 150-round range session using full-power 230-gr. ammunition.
The only negative comments I've seen on these stocks are that the sharp checkering may be a bit "grabby" on some types of fabric, which might allow a concealed P220 to be spotted and some report that the aluminum's anodized coating can scratch.
I have not tried my P220 with all clothing materials, but have carried (lawfully) concealed via an IWB holster and covered by a loose-fitting pull-over shirt made of banlon. Were there going to be a problem, I would have expected it with that material. How prone they are to scratching, I cannot say, but I believe that this would be a cosmetic blemish rather than something that would actually damage the grip panel or affect function.
FWIW, these stocks measure 1.17" thick on my P220 compared to 1.29" for the Hogue checkered wood stocks. I was surprised to find that they were actually thinner than the polymer factory "slim" grip panels, which measured 1.22" at their widest point; however they do significantly taper down toward both the front and rear. The aluminum stocks are more or less "flat" across and rounded at the front and rear.
Are they worth the money? That's an individual choice. It is very possible that there are less-expensive stocks that would serve just as well. I do not know, but couldn't be happier with these. I cannot unequivocally say that the same would hold true for others.
Best.