Hello. A friend of mine dropped by the other day to show me a new 1911-pattern pistol he'd just purchased and I noted that the textured stocks he had on it really offered a secure grip. I asked about them and he said that they were bought via Brownells' site for about $25.00 a pop. Here is a link to them there:

http://www.brownells.com/.aspx/pid=22491/Product/1911_AUTO_XT_GRIPS

They can also be found at Ergo Grip/Falcon Industry site and I noticed that they are offered for the Hi Power as well, though they report being out now:

http://www.ergogrips.net/item-detail.cfm....FTOKEN=14974526

I ordered a pair from Brownells. The cost was $24.99. The Brownells sticker on mine describes them as "Coyote Brown" but the Ergo Grip site calls this color, "Combat Beige". Not quite "coyote ugly" to me, they do offer what I consider an extremely secure grip, that is not hard on the hand...or has not been so far. The grips are of hard rubber and have not proven "grabby" on the outer garments I've used to cover the pistol.

Here is how mine arrived from Brownells.

I personally only use stocks that firmly press against the plunger tube to prevent it possibly coming loose unexpectedly. If not covered they can leave the gun during firing. Having seen a couple leave the frame decades ago in some local IPSC competitions, I've been sold on that feature ever since. A friend had a Commander on which the plunger tube was only held in place by the lip on the factory Colt stocks! In any event, that is something any 1911 style grip must have for me to use it. You can very clearly see the textured surface on these grips.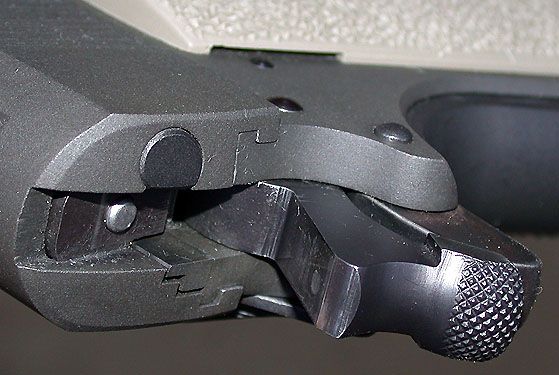 These stocks measured 0.236" at their thickest and are relieved on the ejection-port side for use with an ambidextrous safety.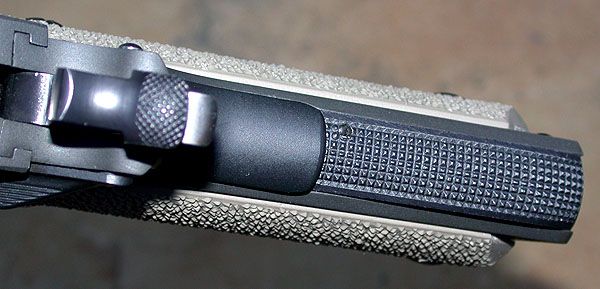 Here's a shot from the rear that might give some indication on both how they fit and how thick they are. The grip screws when secured do not go below the stock's surface as they do on many thicker grip panels.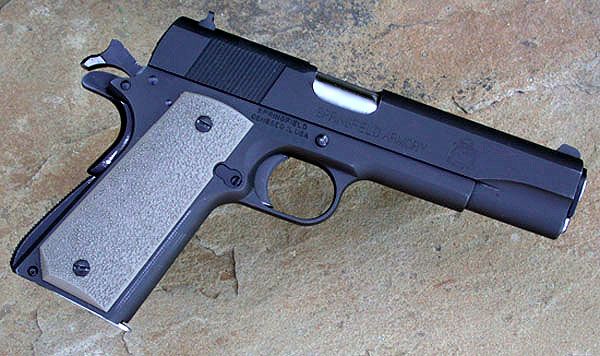 I doubt if any grip-maker artisans have anything to fear from these utilitarian grips, but I do think that they might be a useful addition to either a "working gun" or one used in a rough environment.


These can be had in couple of other different colors as well as with or without the "tapered" bottom. These have the bevel or taper.

Fit was satisfactory and there was no play when the stocks were installed on my Springfield Armory pistol.

I am in no way associated with Brownells or Falcon Industries but thought these inexpensive grips might be of interest to some here. These do what I want on a slightly altered SA Mil-Spec and have probably found a new "home". We'll see.

Best.