Handgun Sights
On some defensive handguns, you'll have the choice of fixed or adjust-
able sights. The latter will cost more, but offer the ability to easily adjust
point of aim to point of impact. The trade-off is that they're not as robust
as fixed sights and possibly more prone to inadvertently snagging on
clothing if drawn from concealment. (Other than for pocket guns, I've
never seen this happen. That does not mean that it cannot!)
<![if !vml]>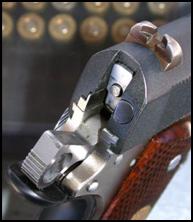 <![endif]>
Figure 24. This high-visibility fixed
sight is less easy to adjust for
different loads, but is durable and
not likely to snag when the pistol is
drawn from concealment.
<![if !vml]>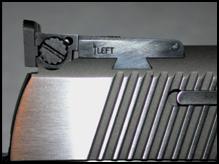 <![endif]>
Figure 25. Though "low-
mounted" on the slide, the DW
Patriot Expert adjustable rear
sight is larger than most fixed
sights and can break. It does
make getting POA to exact POI
at a given distance easier.
In most cases, you can have night sights as an option on newer handguns.
Usually, these sights will have a tritium dot on the front sight with the same
on either side of the rear sight notch. These glow in the dark and are an